At its Far Out event today, Apple announced the second-gen version of the AirPods Pro, almost three years after the launch of the original AirPods Pro.
In this article, we take a detailed look at Apple's evolution of the AirPods Pro line-up for 2022, and reveal the release date, price, tech specs, design changes and new features of the new model.
AirPods Pro 2022 release date
Apple announced the new AirPods at an event on Wednesday, September 7, alongside a new series of iPhones and new Apple Watches. They will become available to pre-order on September 9, and go on sale on September 23.
You can re-watch the event below:
AirPods Pro 2022 price
The new headphones cost $249 (including free engraving). That's the same as the previous model.
Here's how that fits in with the current range of AirPods on the Apple Store, which have seen some price rises outside the US:
AirPods 2nd generation: $129 / £139 / A$219
AirPods 3rd generation: $179 / £189 / A$289 (or $169/£179/A$279 with wired charging case)
AirPods Pro: $249 / £249 / A$399
AirPods Max: $549 / £549 / A$899
AirPods Pro 2022 design
With the AirPods receiving a redesign in 2021, it was assumed that the AirPods Pro would change in order for the differences between the two types of AirPods to be clear. But that hasn't happened: the Pro headphones keep their stem and look the same as the 2019 models.
They also don't gain any new color options, remaining available in white only.
Apple
Swipe controls
There's one external change that is worth mentioning. A new touch control sensor on the stem of the AirPods Pro means you can control volume with a swipe up or down. That's in addition to the current simpler tap controls for play, pause and so on.
This is less glamorous than the gesture-based controls some optimistic pundits had predicted based on Apple's application for a patent in 2020, but still an appealing upgrade.
AirPods Pro 2022 new features
With the external design largely unchanged, the important upgrades are on the inside. Here are the key features you need to know about.
Charging case
The charging case gets several appealing upgrades.
For one thing, as well as MagSafe charging accessories and Qi-compatible wireless pads, it can now charge from an Apple Watch puck. That's really handy for Apple fans who are away from home or just want to reduce the clutter on their bedside tables.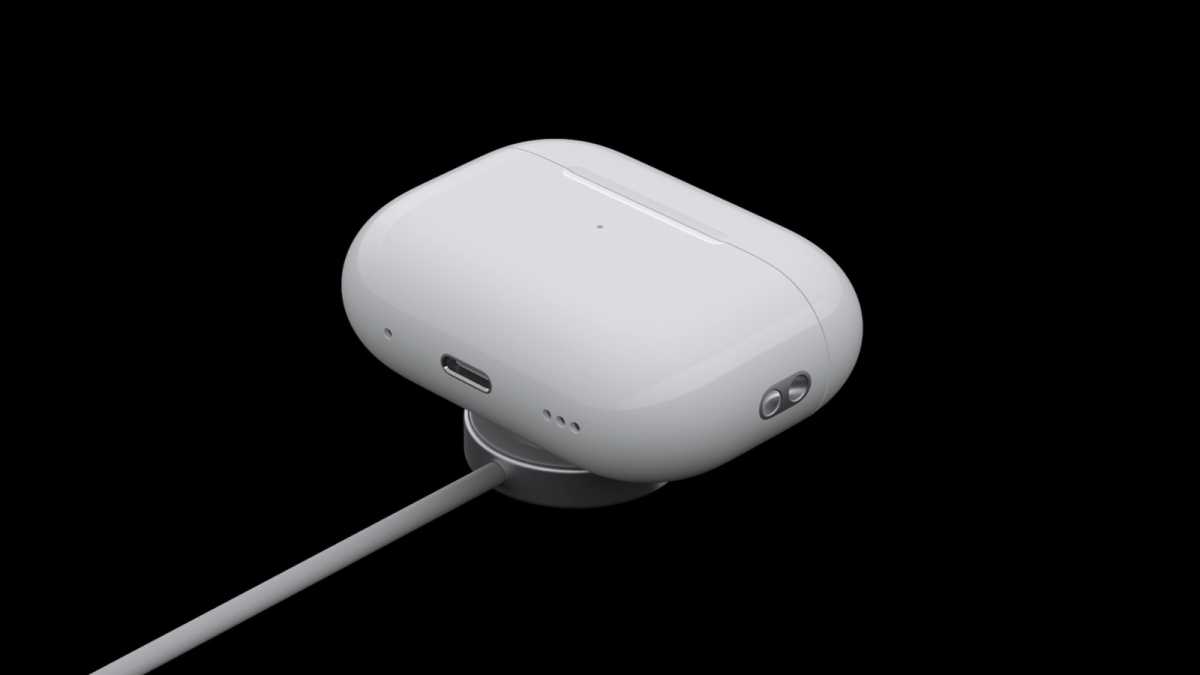 Apple
The case also now includes a small speaker. This has two main purposes: to play a location sound for Find My (aided, thanks to a new U1 chip, by compatibility with the Precision Finding feature used by the AirTag), and to indicate audibly when the battery is low or when charging has started. In the latter respect it supports the visual work of the LED indicator.
One change that hasn't yet come to the charging case is the switch-over to USB-C. It's still based on Lightning. But it does get a small loop for attaching it to a lanyard or bag.
Better battery life
While we're talking about power, it's worth mentioning that the new AirPods Pro have a far higher (claimed) battery life than their predecessors. They are rated for 6 hours of listening time, 33% more than on the first-gen AirPods Pro, and a total 30 hours once you factor in the case.
Improved noise cancellation
Apple now bundles four sizes of ear tips instead of three, with a new extra-small tip added for improved passive noise isolation.
Apple
But there are far more significant improvements to active noise cancellation, which Apple claims is twice as effective as on the previous model. This is thanks to the advanced computation of the new H2 chip and improved acoustic algorithms.
Finally, Apple is working to reduce unwanted noise even when you activate the Transparency Mode which is designed to let you hear external sounds. A new Adaptive Transparency feature reacts to very loud noises and minimises their intensity.
Improved audio quality
Perhaps more important than any other feature, the audio quality delivered by the new AirPods Pro has been improved again. The sound they produce can be tailored to the shape of your ears using a new feature called Personalised Spatial Audio, which uses the TrueDepth camera on a compatible iPhone to create an accurate model of your head.
Adaptive EQ adjusts the sound based on the fit of the headphones, constantly monitoring with inward-facing microphones to get the output just right.
And in general, Apple promises more detail and clarity across a wider range of frequencies.
If you don't want to wait for the new AirPods Pro, read our round-up of the best wireless headphones for iPhone.