The Apple Watch Ultra is the new rugged Apple Watch design to withstand anything and go with you anywhere you want to go. Whether you're a hiker, a scuba diver, a mountain climber, a long-distance athlete, or just excited about a bigger and better Apple Watch, the Apple Watch Ultra looks set to impress.
Apple Watch Ultra: The name no one expected
Leading up to the Far Out event, we heard plently of possible names for Apple's new rugged and sports-focused Apple Watch, but they were all wrong!
Apple Watch Ultra is the official name of the new device in the Apple lineup. 
Apple Watch Ultra: Design 
A brand new design never seen on any Apple Watch before, the Apple Watch Ultra is designed to be tough.
It's made from aerospace-grade titanium to provide a ton of durability, keeping the Apple Watch Ultra as light as possible. Plus, it's bigger as it has a 49mm case size. 
It's not just the sides of the case that are more durable, but the display got a bit of an upgrade as well. The screen is a flat sapphire crystal front that offers better protection for the screen and is also brighter. The screen can shine up to 2000nits, making seeing the display in bright sunlight easier. Apple states it's two times bright than any other Apple Watch display has been so far.
There's a new action button on the Apple Watch Ultra
Look on the Apple Watch Ultra side, and you'll notice a new button on the opposite side of the Digital Crown. This is called the Action button, and it's a customizable button that can offer one-touch access to a ton of features. Apple specifically mentioned the ability to start a workout or move to the next interval of a custom workout — a watchOS 9-specific (opens in new tab) feature.
A new speaker on the Apple Watch Ultra can sound for help
Alongside that Action button is a new bigger speaker grill that protects the speaker, which can let off an 86-decibel siren during emergencies to help you reveal your location to people nearby.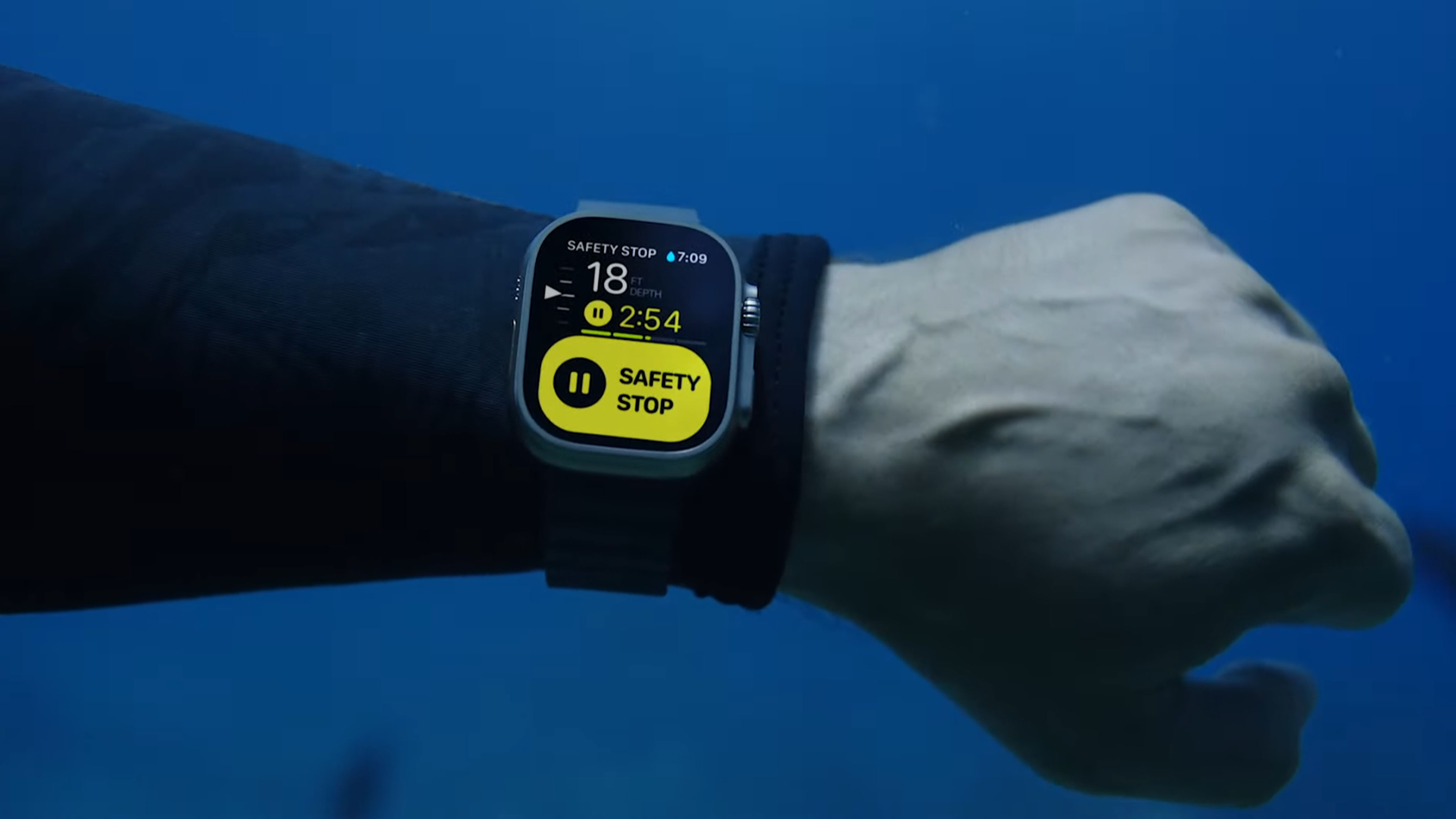 Apple Watch Ultra can go where other models can't
Being the most rugged Apple Watch, the Apple Watch Ultra is made to go where other models of the device just can't. Apple states, "on-wrist operating temperature was designed to help explore the most extreme and remote locations, from freezing cold mountains at -4° F (-20° C) to the blazing desert heat at 131° F (55° C)."
The Apple Watch Ultra is also certified for the "relevant aspects" of MIL-STD-810H, which include testing for altitude, low and high temperatures, rain, sand, freezing and thawing, and more.
Of course, it wouldn't be an Apple Watch without the ability to go underwater, and the Apple Watch Ultra is certified to WR100. Meaning surfing, waterskiing, and many other water sports are perfectly safe. Plus, Apple even states the Apple Watch Ultra is safe to use for recreational scuba diving up to 40 meters. 
Apple Watch Ultra: Features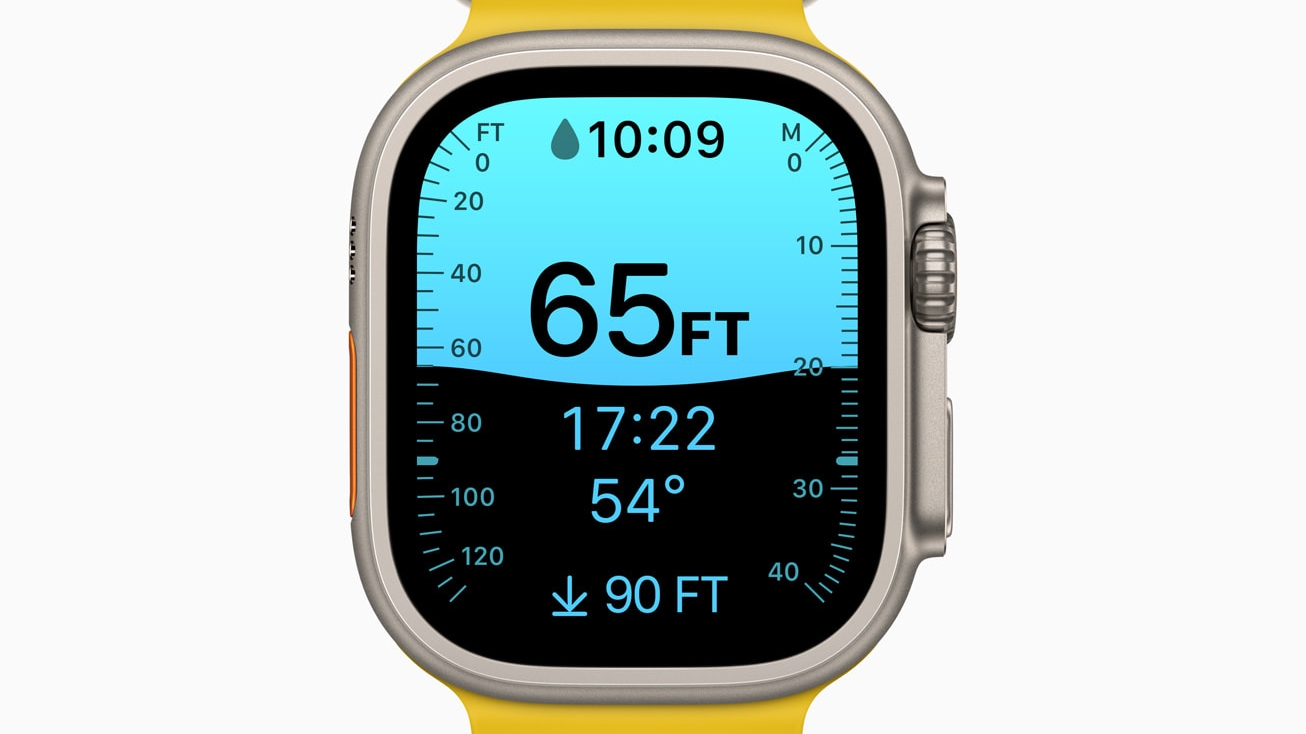 Take the Apple Watch Ultra to new depths
As stated before the new Apple Watch Ultra can scuba dive up to a depth of 40M. When submerged, the Apple Watch Ultra will automatically launch the new Depth app.
The app will display the time, current depth, water temperature, duration under water, and max depth reached, so you can keep an eye on all your stats will you enjoy your dive.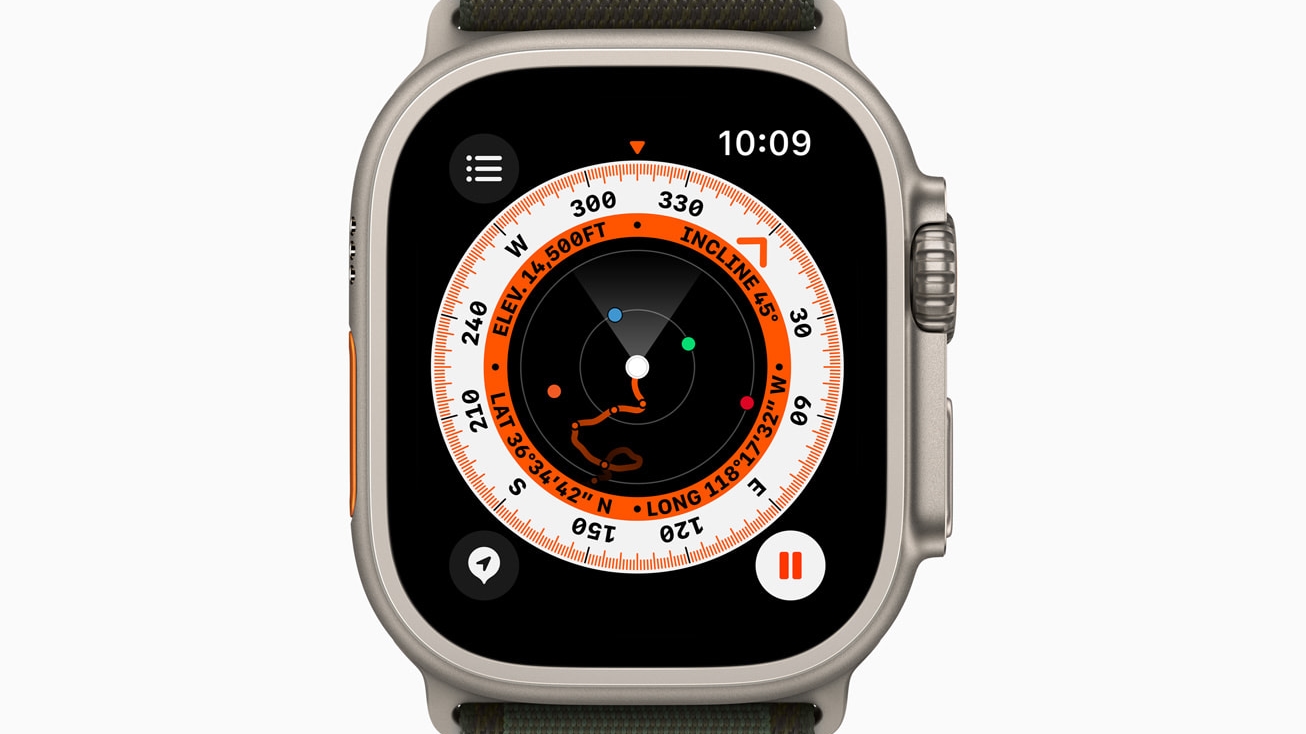 The compass app gets a makeover on the Apple Watch Ultra
Fitting in with its exploring nature, the Compass app is getting a huge upgrade on the Apple Watch Ultra to include the ability to add Waypoints. This will allow you to quickly mark locations, and the Waypoint complications will update in real time to display your direction and distance.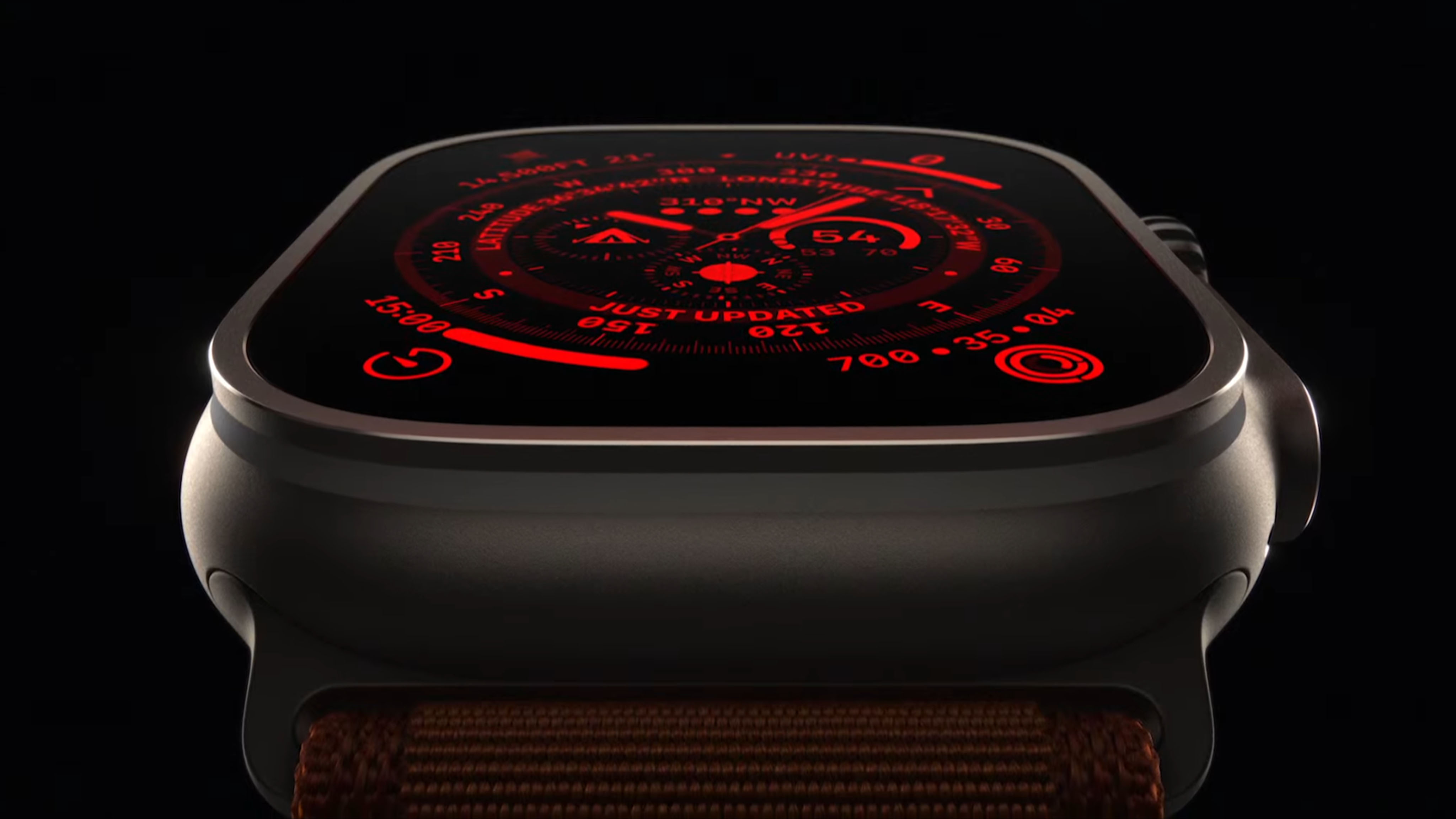 Use Night mode on the Apple Watch Ultra to see the display in the dark.
That big beautiful 2000 nit display on the Apple Watch Ultra will likely be pretty bright, but you can use a new Night mode with the new Wayfinder watch face that will make it easier to read in the dark. Turning the Digital Crown will activate Night mode and make your screen's interface red. This should make it easier for your eyes to read in low-light conditions.
Apple Watch Ultra does everything a Series 8 can do
It's important not to forget that the Apple Watch Ultra can also do everything the Apple Watch Series 8 can do on top of the Ultra-specific features. That means the new Crash Detection and temperature sensor are available on the Apple Watch Ultra. Plus, all the goodies like an always-on display, Blood Oxygen app, and ECG apps that you've come to know and love on the Apple Watch. 
Apple Watch Ultra: Battery life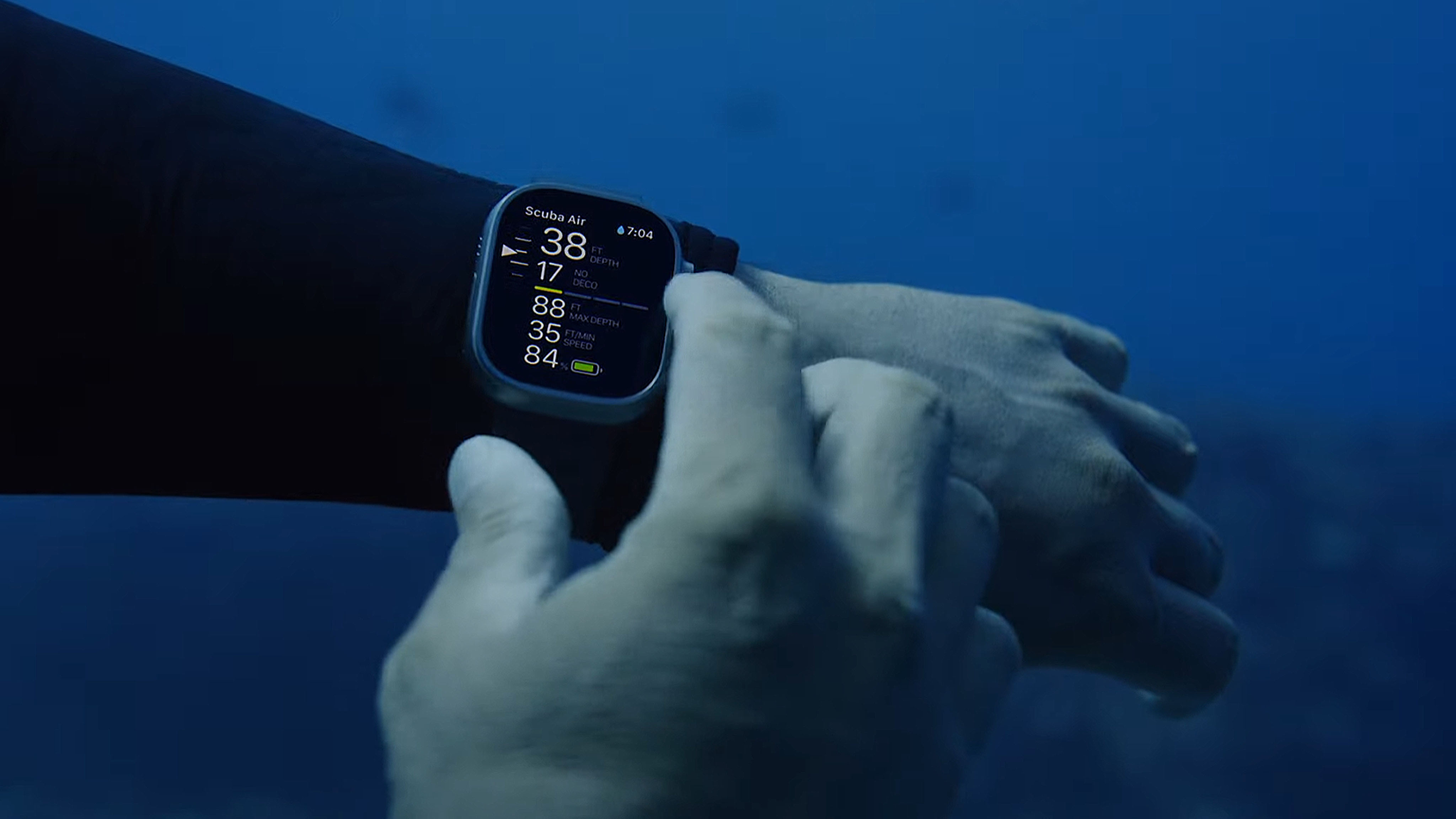 Any sports enthusiast knows you need a smartwatch that can keep going longer than just a day. The Apple Watch Ultra can reach 36 hours of battery life with normal use. That's about twice as much as the Apple Watch Series 8 can get with regular use, but it doesn't stop there.
The Apple Watch Ultra can use Low Power Mode — that's coming to all watchOS 9 devices — to help extend that 36-hour battery life even further. Plus, a specific low-power setting can extend the battery life significantly by getting up to 60 hours on a single charge. However, it seems that the low-power setting will not be available at launch, and Apple says it will be available later this fall.
Apple Watch Ultra: Processor and connectivity
The Apple Watch Ultra has the new S8 SiP advanced dual-core processor, which is also found in the Apple Watch Series 8 and Apple Watch SE (2022) (opens in new tab). Apple states the processor should make the Apple Watch Ultra 20% faster than the previous S7 chip in previous smartwatch models.
As mentioned earlier, every Apple Watch Ultra has cellular included, meaning if you choose, you can use it entirely separate from your iPhone if you have a data plan.
Apple Watch Ultra: Price 
In a somewhat surprising twist, the Apple Watch Ultra is cheaper than many expected. It's $799 and all Apple Watch Ultra come with Cellular and GPS meaning you don't have to worry about it costing more for you to use it without your iPhone around.
One thing to also consider when buying the Apple Watch Ultra is the pricing for AppleCare+, the company's protection plan for the watch. AppleCare+ for the Apple Watch Ultra is $99.99 or $4.99 per month. The plan covers unlimited instances of accidental damage to the watch, but each repair is subject to a $79 service fee.
However, if you don't purchase AppleCare+, a repair to the titanium case, display, buttons, sensors, or any other component that is not the battery will cost you $499. A battery replacement will cost $99.
Apple Watch Ultra: Release date
Just like the Apple Watch Series 8, you will be able to order the Apple Watch Ultra sometime today, presumably after the event; however, you do have to wait a bit longer to actually get it on your wrist.
The Apple Watch Ultra will ship on Friday September 23, 2022 and that's when you should be able to go to a store and pick on up. Limited to the stock available, of course.