Apple has presented its latest series of smartphones – the iPhone 14, iPhone 14 Plus, 14 Pro and 14 Pro Max. As usual Apple will be kicking things off with pre-orders, so that those who want a handset can race to place their order and then wait a week or so to receive the new handset.
Unfortunately, you are unlikely to be the only person pre-ordering a new iPhone. In our experience a hesitation of only a few minutes can postpone the delivery of a device by days, if not weeks. In this article we'll help you get ready so that you can place your order quickly and be one of the first to get the new iPhone from Apple.
So, if you want to be in with the best chance of getting one of the new iPhone 14 models read on to find out what you should do – now!
Of course you don't have to pre-order and you don't have to buy from Apple. Alongside the Apple Stores other resellers will be selling the iPhone from the September 16 (or October 7 in the case of the 14 Plus). Alternative resellers include Amazon, Walmart and Best Buy in the U.S. and Carphone Warehouse, PC World, KRCS, John Lewis and others in the U.K. You'll also be able to pick one up from the phone networks. Check out our best iPhone deals round up to get the best prices.
However, experience in recent years indicates that Apple prefers its own stores and online customers when the popular devices are delivered, so the first tip is obvious: If you want to get hold of the iPhone 14 quickly order directly from Apple.
Not sure which model to buy? Read our iPhone buying guide.
What day do iPhone pre-orders start?
You will be able to pre-order the iPhone 14, 14 Plus, 14 Pro and 14 Pro Max on Friday, September 9 at 8 a.m. ET or 5 a.m. PT (we've included more times at more locations below).
When does the new iPhone ship?
The iPhone 14, 14 Pro and 14 Pro Max will be available to ship and in stores on the following Friday, September 16.
The iPhone 14 Plus won't ship until Friday October 7.
What time will pre-orders start?
Pre-order start at the following times where most of our readers live:
U.S.: at 5am (PST/PDT), 6am (MST/MDT), 7am (CST/CDT), 8am (EST/EDT)
Canada: as above, and 9am (AST/ADT)
U.K.: at 1pm (GMT/BST)
Europe: at 2pm (CET/CEST)
India: at 5.30pm (IST)
Australia: at 8pm (AWST/AWDT), 9.30pm (ACST/ACDT), 10pm (AEST/AEDT)
New Zealand: at midnight following day (NZST/NZDT)
Set your alarm if you are in the U.S.!
How to pre-order a new iPhone
1.
Create or verify your account at the Apple Store now
Foundry
It is advisable to check the account you use to make purchases with Apple now. You don't want to find that you need to enter a new credit card or alternative delivery address when you are attempting to order your iPhone. Don't delay because Apple is very likely to take the Apple Store offline before the product launches – so you won't be able to make any amendments to your account. Don't wait until the day pre-orders start to check your account because inevitably on entering the Apple website you will be greeted with an Apple logo and the words: "We'll be right back".
How to check your Apple account
The summary of your Apple account activities can be found at this link.
Log in with your password or touch or Face ID.
Check whether the delivery address is still correct.
Check whether a current credit card is listed as the payment method.
2.
Find the iPhone you want and get ready to pre-order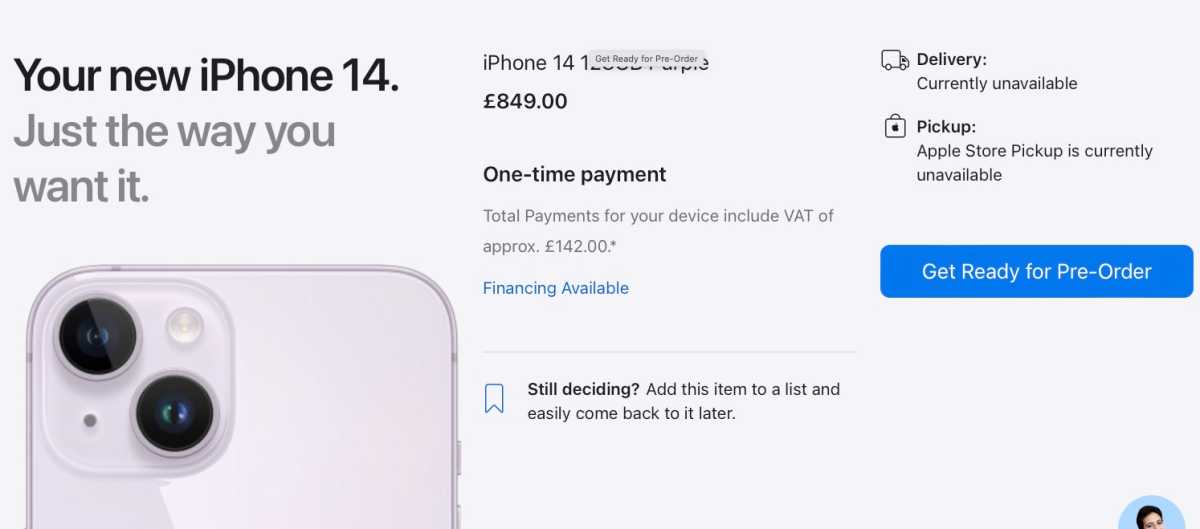 Foundry
Following the keynote the new iPhones quickly appeared in Apple's web store, but with no Buy or Pre-Order option. However, Apple does include a Get Ready To Pre-Order feature which will allow you to save your desired variant as a favourites. Here's what to do:
How to choose your iPhone
Find the iPhone you want on the Apple website and you can go to the relevant Get ready for iPhone 14 pre-order page via View Pricing (or click here for iPhone 14 or iPhone 14 Pro).
Choose the exact iPhone you want: model, color, storage, if you have a phone to trade in.
Now choose your payment options – whether you want to pay upfront or in monthly payments.
Add AppleCare+ if you want to.
Now click on Get Ready for Pre-Order
On the next page Apple offers you the option to add more accessories, confirm payment information (Apple will verify your card by changing it $/£0), enter contact information, and agree to the terms.
Once you have done all these steps click on Save Your Pre-Order Info.
Don't worry – you won't be charged until you complete your pre-order on pre-order day.
3.
Pre-order iPhone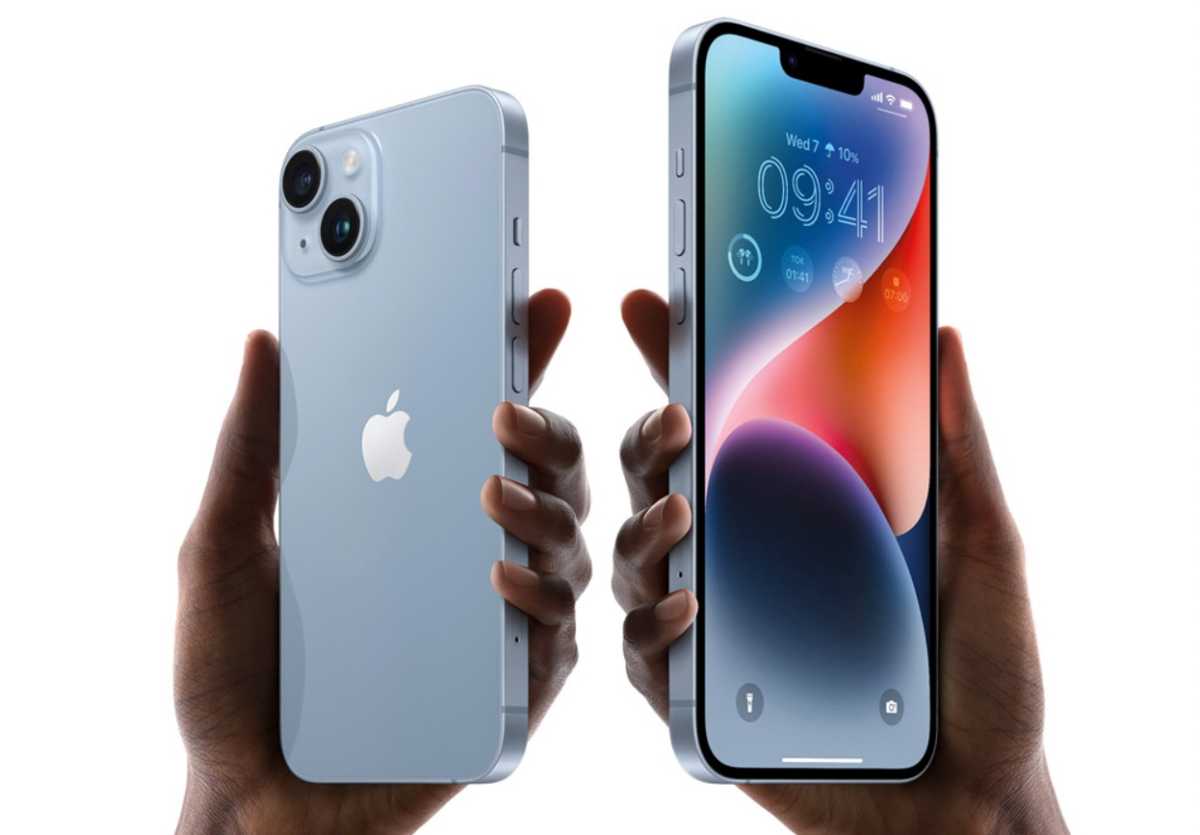 Apple
On the day that pre-orders start the Apple Store is likely to be down right until the pre-orders start.
Get ready to refresh the page just before pre-orders commence where you are.
Thanks to your preparation you will quickly be able to select the iPhone you want and your bank and delivery details will be all ready. All you need to do is wait!
Good luck!