At a glance
Expert's Rating
Pros
Handy set of powerful tools
Ready access to tutorial and help files
Good level of configuration with the application's modules
Cons
Monthly and annual subscription fees can lead to some sticker show, as do the one-time purchase fees.
Overzealous marketing efforts in place as multiple options appear to have the user subscribe to the company's email list
Our Verdict
There's a good selection of useful tools here, the software doesn't try to overextend itself, and it does its tasks well, but Nektony has begun asking for a steeper price in a field that typically hasn't been viewed as something customers would pay a subscription for. One-time purchase and licensing fees have also wandered into more expensive territory.
Price When Reviewed
$74.95 (one-time purchase), $29.95 (one year subscription)
Best Prices Today: MacCleaner Pro
There's no shortage of cleaning and optimization utilities for the Mac these days, and while Ukranian developer Nektony's MacCleaner Pro doesn't offer the most revelatory set of features, what's present here is a handy, powerful selection of tools. MacCleaner Pro doesn't overextend itself by promising to remove malware or move into otherwise esoteric tasks that can't live up to their promise. These utilities are competent, clever, and run smoothly while delivering what's promised.
The suite hones in on several modules and functions (MacCleaner Pro itself, App Cleaner & Uninstaller, Disk Space Analyzer, Funter, and Memory Cleaner) and executes them well, albeit at a potentially high price point for some users.
Each of MacCleaner Pro tools is fairly powerful, and it has a good tutorial system that opens when you activate each new module for the first time. It's fairly easy to open a chat window to ask for help or pull up a YouTube instructional video as to how to perform a task.
Nektony
Once you give each tool full permissions and access to folders such as Downloads, Desktop, Documents, and others, they're free to go to work and dig around for files that may be clogging up your Mac.
The general Overview and clean up module was able to clear out over 10 gigabytes of disk space on my MacBook Pro, and the clean up function clearly labels what types of files the software will work to purge (such as caches, unnecessary language files, email attachments, etc.).
The Speed Up Mac module allows you to perform tasks such as reindexing Spotlight, reindexing Mail, and managing your startup apps, Internet plugins, and browser extensions, which would take some digging through the macOS operating system to do by hand. Both standard and expert modes offer changes such as freeing up RAM, disabling obtrusive startup applications, reindexing your Mail database, disabling browser extensions, and others. This won't turn your Mac into an absolute speed demon, but it helps remove the kludge that makes your Mac run like an iron pig in mud.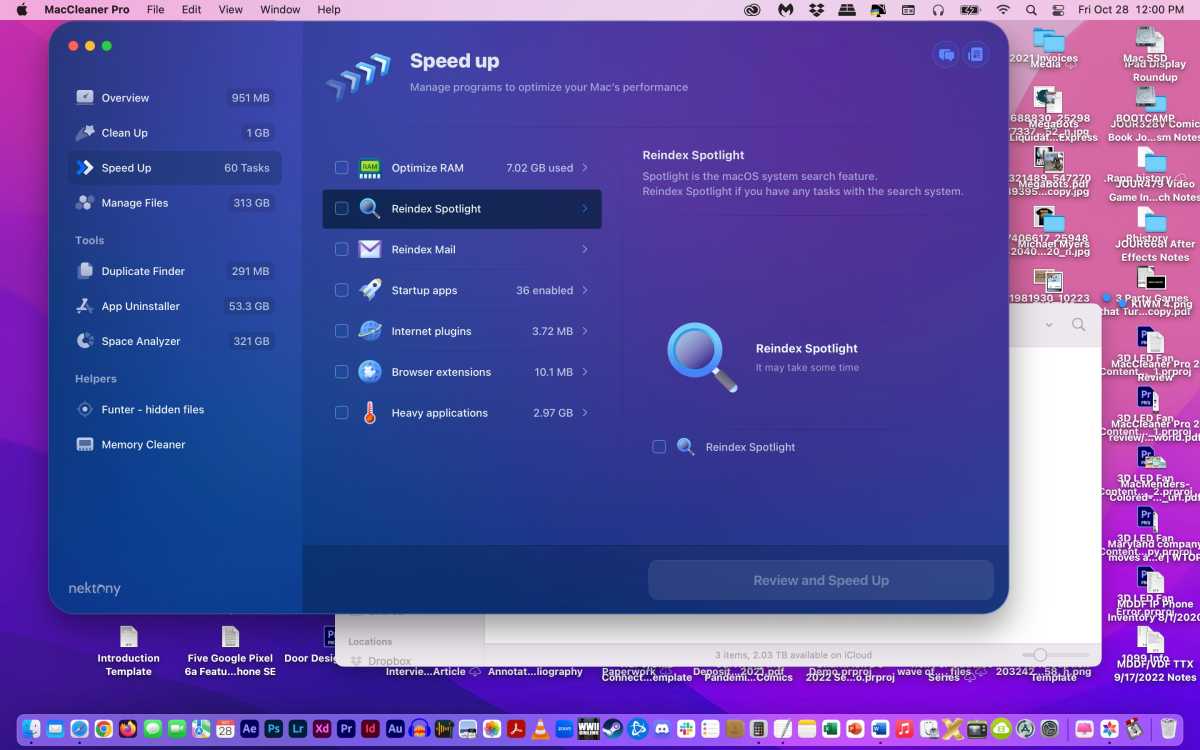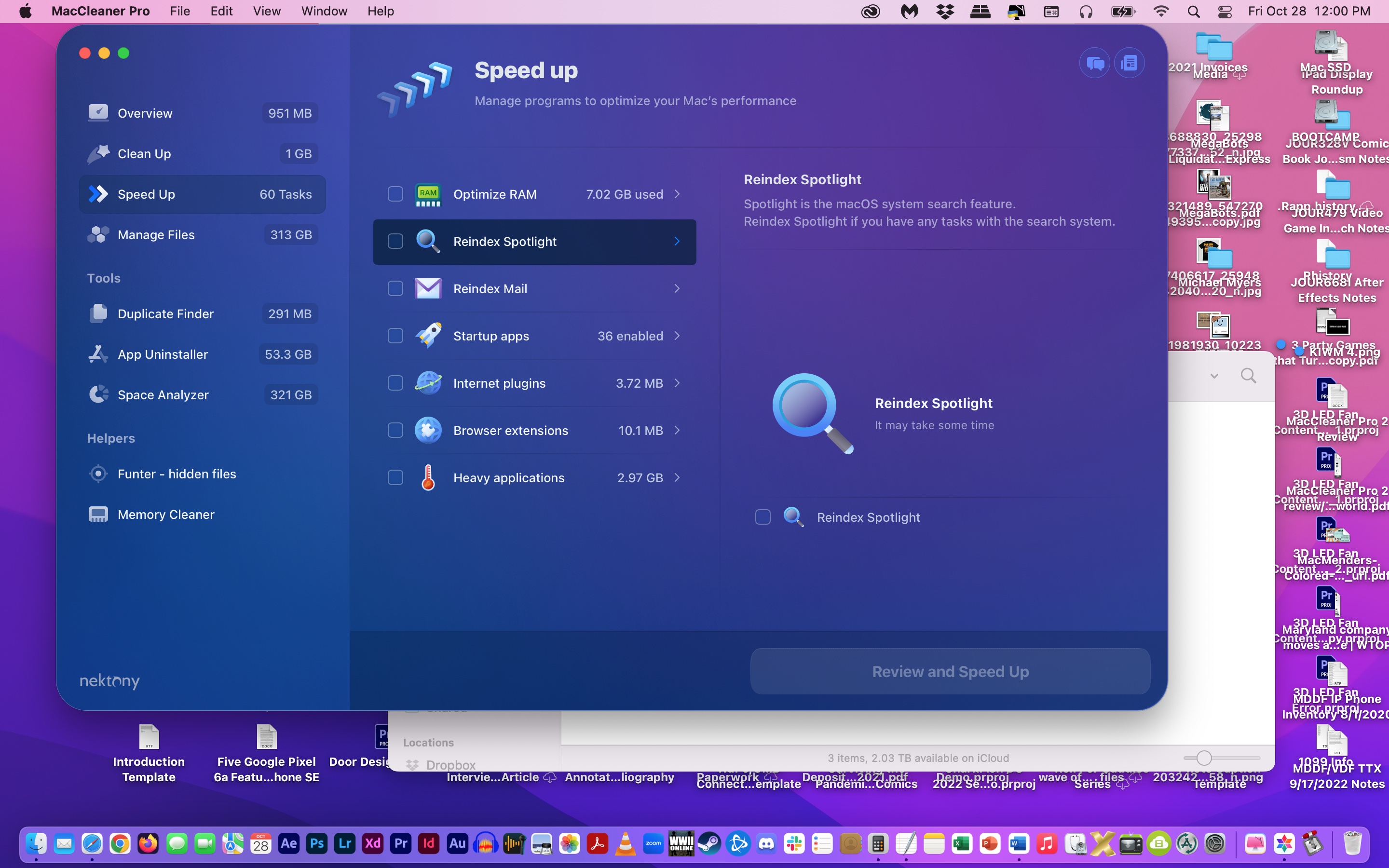 The Manage Files module allows for easy viewing and access to assorted file types such as compressed archives, video, audio, pictures, documents, system files, and duplicate files, and it's easy to hone in on specific files and remove them. The other modules work as advertised, and I was able to easily hunt down an outdated copy of Adobe Premiere and remove it as well as its support files.
Nektony's Duplicate file remover proved to be excellent and shows you just how many extra copies of a single image might be occupying your hard drive. In one case, I wound up deleting over 700 cached copies of an image from my hard drive that were occupying over 100MB of space. Recovered space is tracked almost like a scorecard, thereby pushing you to recover more space while you have the program open. 
The Duplicate File Finder module isn't limited to what's on your Mac. I used it to track down and delete files across my iCloud account. As handy as iCloud storage is, there are times when the duplicates pile up, and the Duplicate File Finder module offered a handy readout of what files would be addressed and possibly removed. I was able to clear up gigabytes of space with this, but this module also takes some getting used to as well as customization and you might have to specifically target what you want to remove, as I had to restore some data from a Time Machine archive to get data for an Adobe Premiere file I've been working on. This can lead to a bit of a shotgun effect if you're not careful, and you might want to take the time to specifically hone in on the duplicates you wish to nix from your hard drive or cloud storage space.
In the case of the Uninstall Applications module, it's easy to locate and remove unwanted applications. A handy toggle allows you to switch between standard mode and expert mode, which allows you to view application components and note where they're located on your Mac.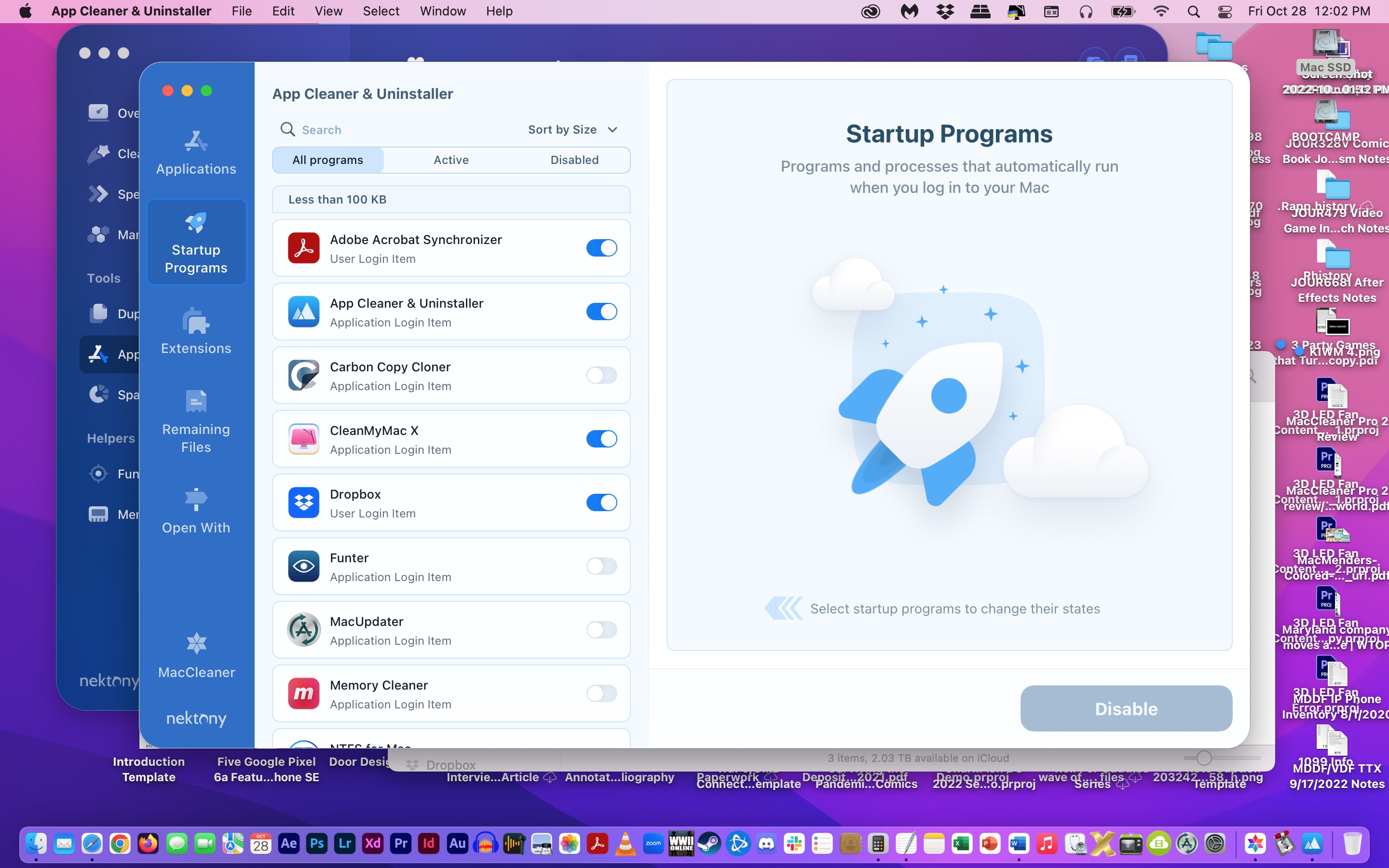 With the Analyze disk usage module, you can easily view and gauge which file types are taking up the most space on your Mac and work to slim them down. Another neat feature of this is that it was able to view and gauge the files that took up the most space on my Boot Camp partition, an unexpected bonus. 
While I'm running a pretty lean system on my MacBook Pro, the Clean up Mac module was able to nix 3.28GB of extraneous caches and language files. The application allows you to refine your search, choosing which folders are targeted for cleanup. While the module was able to get the vast majority of the files, it didn't have systemwide permissions to remove five small files, which presented a small hiccup that needed to be worked around. 
The Funter module loads and is accessible via the macOS Menu Bar, allowing for quick viewing and assessment of junk files, duplicate files, applications, and large and old files. It allows macOS to show and work with hidden files without having to unlock these via Terminal commands, which is useful in instances where you need to work with or remove these files. The module's name may be unusual, but the module itself comes in handy.
Finally, the Memory Cleaner module allows you to quickly free up RAM on the fly, as well as monitors which applications are chewing up this resource. It works well in freeing up unassigned RAM, and can be configured to load at startup, which could be handy for some users.
A one Mac license is available at a one-year subscription for $29.90/£33.26 or one-time purchase for $74.95/£83.24 via the Nektony Store. While the MacCleaner Pro 3 suite offers a good array of tools, the asking price seems steep and moving it into the subscription software arena when most users have historically paid a one-time price tag for their utility software comes as a bit of a harsh surprise. It's easy enough to transfer your activation license from one Mac to another if needed, but the price tag seems high, even with the company's specials and deals. The other irritation comes in the form of Nektony's marketing efforts, and it feels as there's an overabundance of menus that ask you to sign up to the company's email list.
Bottom line
MacCleaner Pro comes as an unexpected surprise in a crowded field of utilities, complete with speedy replies to email requests, a good interface, and smooth operation. It may not be the flashiest thing out there, but it offers a good interface, good set of utilities, and is worth your consideration.
MacCleaner Pro 3, is a worthy successor to a piece of software that proved to be a nice surprise in fall 2021. Like its predecessor, the suite hones in on several modules and functions (MacCleaner Pro itself, App Cleaner & Uninstaller, Disk Space Analyzer, Funter, and Memory Cleaner) and execute them well, albeit at a potentially high price point for some users. MacCleaner Pro 3 doesn't feel like a radical update to its previous version as much as a gradual update, and the tools remain the same, albeit with some improvements and a nice user interface overhaul.
Where things get sticky with MacCleaner Pro is the price tag and its marketing efforts. I feel as if the marketing department is leaning a bit too hard on the tiller where Mac Cleaner Pro 3 is concerned. Whether or not utility software falls into the category of subscription-based software is debatable and just because the software industry is trending this way doesn't mean Nektony needs to follow suit. These are handy utilities and they do their job well, but if there's a sticker shock attached to it, then the company risks scaring potential customers away.