AppleInsider may earn an affiliate commission on purchases made through links on our site.

Disney Dreamlight Valley is incredibly addicting, but the game can get pricey, and Disney fans might want to wait until it becomes free to play next year.
Disney and the game publisher, Gameloft, call Dreamlight Valley a "life-simulation adventure game", and we see the similarities to sandbox games like Animal Crossing, The Sims and Stardew Valley. But, instead of dealing with Tom Nook's loansharking, or Simlish, you get to spend time with Mickey, Goofy, and characters from Disney's animated movies.
Early on, the company said that Mac owners would gain early access to the game when they purchase the Founder's Pack on the Mac App Store, but we're late to the party. People who own a Nintendo Switch, Playstation 4, Playstation 5, Xbox Series X|S, Xbox One, a subscription to Xbox Gamepass, or a PC have been able to purchase the game since September.
Downloading the game
When I first tried purchasing it, I couldn't download the 8.1 GB game. There wasn't enough space on the laptop. Fine, I deleted whatever I could and Discord, Microsoft Office and Adobe Photoshop ended up in the trash.
Finally, I bought and downloaded it, but when I tried opening the game, I couldn't because my Mac didn't support it. I have a 2019 Mac Book Pro. I thought updating it would allow me to play, but after waiting an hour for my laptop to finish the update, it still wouldn't open.
Players need to own an M1 Silicon Mac or newer to play. Not seeing this is my fault for getting too excited and not doing more research.
But, it is crucial to know. Game developers are genuinely excited about Apple Silicon. Most new games from big studios will require it, and as time goes on, less and less software as a whole will run on Intel hardware.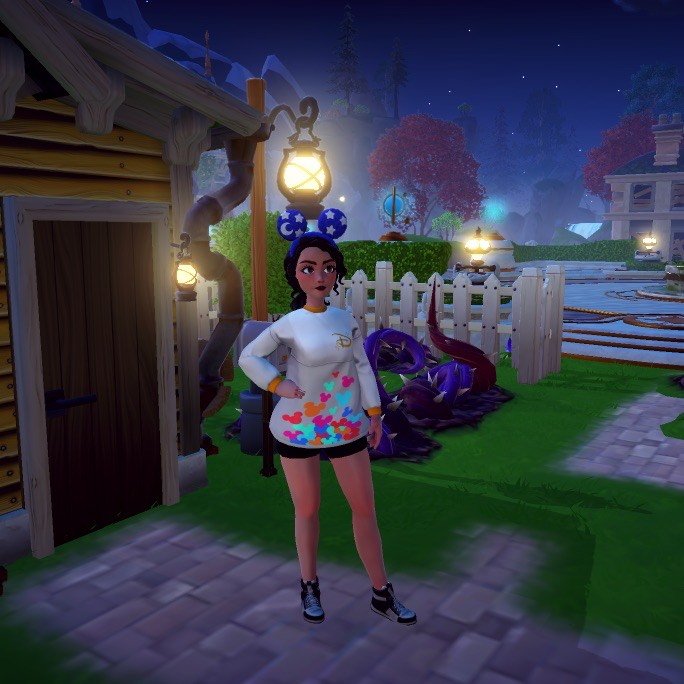 Luckily, I can play on my Nintendo Switch Lite, so I can still enjoy the game. And, my editor and his children have been playing on the Mac.
Character Customization
The character customization alone filled my Disney Adult heart with so much joy. It's easy to make your character look like you.
I have a pet peeve when picking out hair in character customization. Rarely, if ever, can I find hairstyles that match my curl pattern.
Unfortunately, Disney Dreamlight Valley isn't an exception to this. The only style that came close to matching mine was in a low ponytail. It's cute, but I wish there were more hair options.
The game's character customization does make up for that by allowing players to choose their body type. Players can choose from six feminine and six masculine body types. Choosing between the body types doesn't alter the other customization options. Players can choose from a variety of 19 skin tones, three of which allow players to create characters with vitiligo.
The game's character customization offers something to everyone. But, it would be great if the game added features for characters who have missing limbs, need wheelchairs or crutches, and be just as inclusive of people with different disabilities.
Gameplay
The game is addictive. When I first began playing, I played for about thirteen hours straight. When I finally forced myself to walk to the kitchen and get some water, I'd realized I played until 5:00 a.m. and still struggled to put down my switch.
There is so much to do in this game. You can grind and go on adventures, complete quests or relax and plant carrots in your garden for hours. Players can harvest food, fish and mine throughout the island, then sell their crops and treasures to Goofy at all of his stalls around the island.
The game is challenging, but it doesn't bore you. Sometimes, quests can feel repetitive after a while, but creating a game that's a life simulator and an adventure game wrapped into one prevents the game from becoming too tedious.
Out of everything this game offers, one of my favorite parts is the camera feature. The game gives players a camera, similar to the one in Animal Crossing. It also allows players to pose next to residents and take photos with them.
On the Switch, it gives players a QR code they can scan with their phone to access and download their photos. It's a fun feature that allows players to feel even more connected to the game and the characters they love.
But, beware, this isn't the game for players who don't like quest-heavy games. Like any other game, players are required to complete quests to unlock more features. While this does have the feel of a sandbox game, it is still an adventure game at heart. So you must continue completing quests if you want to bring more characters and features to your town.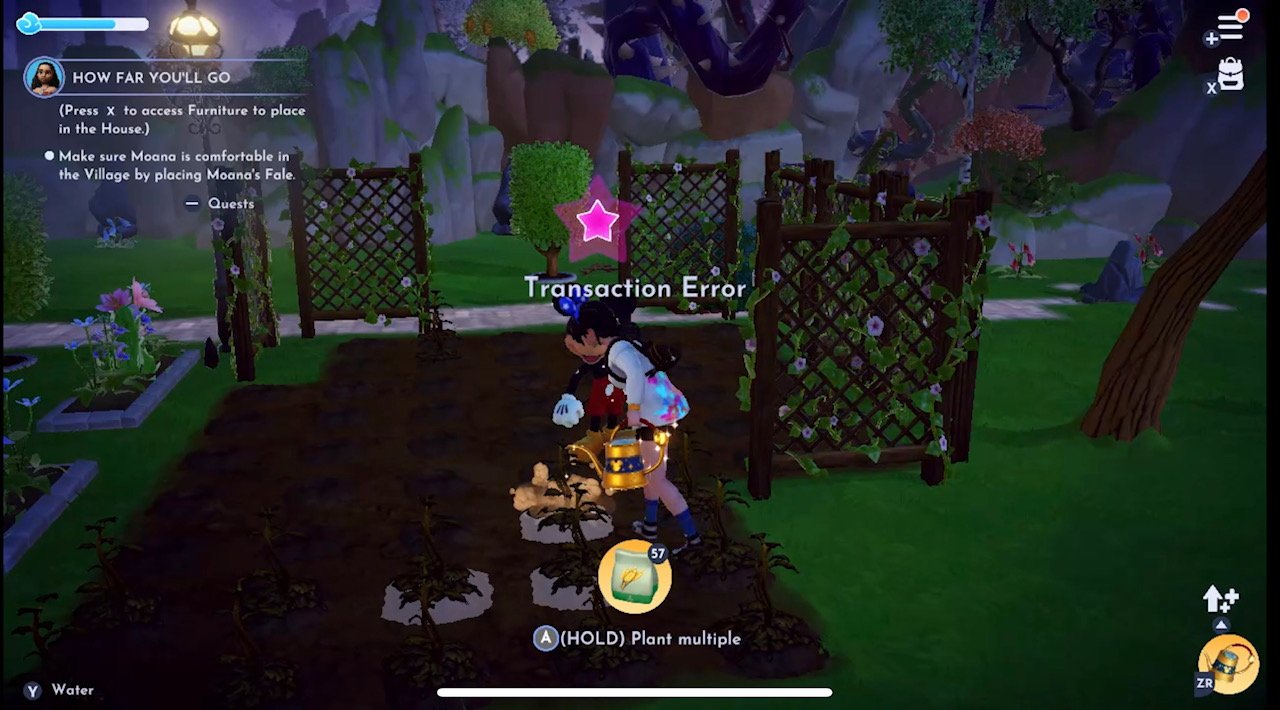 Bugs
I noticed the game would notify me of a "transaction error" when I gardened, mined or did anything that would allow me to earn experience points.
The error doesn't break the game. I haven't noticed a difference in the amount of experience or moonstones I receive when the notification pops up. But it is incredibly annoying, especially when you're doing tasks back to back, like harvesting multiple crops all at once.
Players can ask characters to hang out with them while they complete some of the tasks mentioned above, but they will constantly get in the way and make the task more frustrating than it needs to be.
Once residents reach level two, you can assign them a role like fishing, gardening, foraging, mining and digging. When you ask residents to hang out with you and do activities involving their role, you get extra bonuses.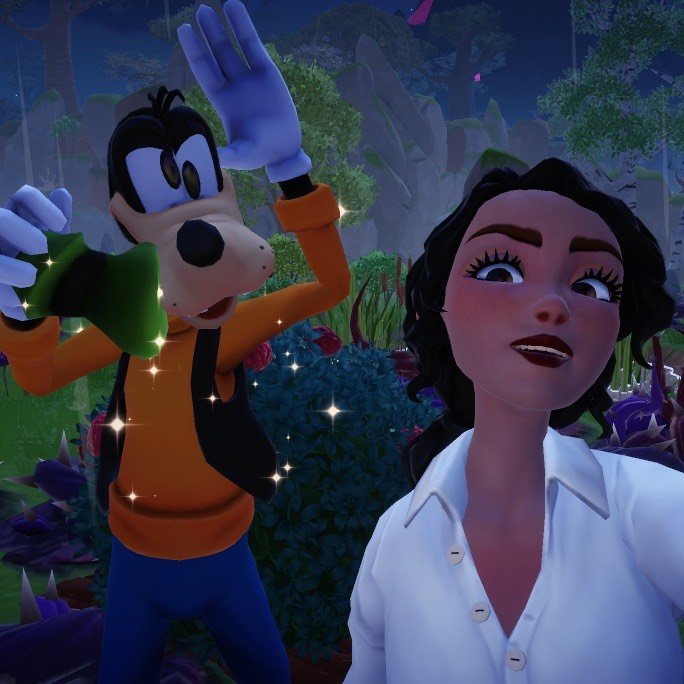 For example, if you assign fishing to Goofy, when you go fishing together he will drop an extra of whatever it is you caught. It's a brilliant concept that adds another fun layer to the game and incentivizes players to hang out with characters, but they get in your way so often that the nuisances that come with hanging out start to outweigh the benefits.
I assigned gardening to Mickey, and there were moments when harvesting crops became almost impossible. Instead of allowing me to rush through and harvest everything, he would consistently stand in front of me and block my way.
If I pressed "A" to harvest something, he'd somehow end up in front of me and begin talking to me. If a crop became golden and I could harvest it multiple times, he would stand in the way, start talking to me and I'd lose my chance to continue harvesting the plant.
I love Mickey, he's a pretty great guy, but I rarely garden with him now because of how irritating he is. This isn't necessarily a bug, but it should be something the game developers look into before actually releasing the game.
Again, it doesn't ruin the game. But I can't see how it's worth almost $50 and $70 on a game with these kinds of faults, especially when it's going to be free next year for everyone.
Dreamlight Valley – pricing
If you're debating purchasing the game, it's critical to remember that consumers are paying to have access to the early release in preparation for when the game becomes free to play in 2023.
Players will be able to send feedback "once they've officially taken up residence," said Manea Castet, Game Manager of Disney Dreamlight Valley and Lead Studio Producer of Gameloft Montreal.
The perks of paying the additional $29.99, $49.99 or $69.99 give the players more wardrobe options and let them start with more moonstones, the in-game currency players can earn from playing the game or purchasing it with real money.
Disney Dreamlight Valley— Pros
The game is enticing and will capture the attention of almost any gamer
It's a fun game the whole family can enjoy
Character creation feels inclusive
The game has a variety of things for players to do
Characters bring a nice familiarity to the game
The base package is a great price and costs less than some of the similar games
Game developers say they will continue updating the game and adding more content
Disney Dreamlight Valley— Cons
The game still has several bugs
Once it becomes free to play, microtransactions will be introduced to the game
The game does not have a multiplayer function yet
Quest heavy
Not the best choice for players who expect a pure sandbox game like Animal Crossing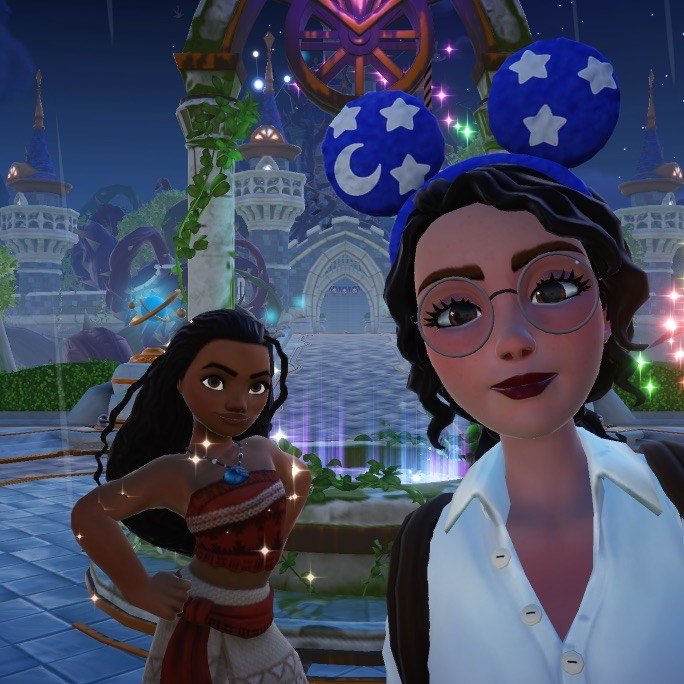 Overall, this game is excellent for the whole family. Older generations will feel waves of nostalgia, younger kids can get excited to explore with their favorite Disney character, and teens and college students can play this to unwind after a long day of studying. This game is silly and whimsical. The story will keep you on your toes. It's a great holiday gift for the Disney fanatics in your life, and anyone who grew up obsessively playing Toontown is sure to love it.
The game isn't perfect and does have a few bugs, but they aren't big enough to stop you from buying the basic package of the game. I don't think it's worth it to break the bank and spend money on the more expensive versions, especially since this game will be free to play in 2023.
Regardless of its faults, this game is fantastic and full of potential. I'm excited to see how Disney Dreamlight Valley grows and improves as they release new updates.
Rating: 4 out of 5
Where to purchase Disney Dreamlight Valley: