AppleInsider may earn an affiliate commission on purchases made through links on our site.

The Fuel 3 in 1 Foldable Power Station from Case-Mate is for people who want an all-in-one charging solution wherever they go — no matter the trouble or cost.
This charging option is like one of those huge 10-person camping tents. The space is luxurious while you're out in the wilderness, but setting it up, taking it down, and packing it makes you question whether it's worth it.
The Fuel 3 in 1 Foldable Power Station allows you to set up a home base for your devices while you're out on the road, but it probably won't fit in a standard tech pouch and might even be a pain to use in a cramped hotel room.
As we used this multi-device charger it became clear that within select contexts, it was a neat and clever solution. Other times, however, its folding A-frame magnetic connection was a bit sloppy and the Apple Watch magnet was potentially too vertical.
Case-Mate Fuel 3 in 1 Foldable Power Station – Features
Case-Mate's foldable power station has two Qi charging spots and an MFI-approved Apple Watch charger. The portion of it that stands up gets locked into place with a magnet. When you're done, it can fold down to be 1 inch thick.
The overall thinness when folded is great, but it still had a large overall footprint.
While the magnet is strong enough to keep the stand upright, we found it to often get placed crookedly. A negligible issue for some, but one that constantly drove us crazy as we kept wanting to straighten it.
There are no MagSafe alignment magnets in this product, so there is the risk that devices don't get set in the right spots to be charged.
We found the Apple Watch charger to work just fine, but be vulnerable to allowing a watch to fall off if bumped. This is due to the steep angle of the watch charging spot.
Our Ultra never fell off on its own, but it did when we tried to simulate a jostle to the 3 in 1 Power Station.
One neat trick we found is that the AirPods Pro 2 case can stick to and use the Apple Watch charger and get power. Doing this frees up the bottom spot for another phone or other Qi-compatible device.
At $150 retail price, the 45W wall charger that comes in the box isn't free, but it is still nice to have that level of power included — enough to charge three devices, including two phones, at once. The stand area can provide 15W of power to capable devices. The flat area can deliver 10W of power. And the Apple Watch charger can handle up to 5W of power.
The Fuel 3 in 1 Folding Power Station is made with recycled materials. The product's appearance is a bit masculine and utilitarian to us, but overall we didn't mind the dark gray appearance.
It did look like a transient product, however, compared to a stationary one. It looked floppy and visibly foldable to us. (Again, not a bad thing, simply a design choice.)
We really liked the feel of the soft, textured material. Simultaneously, it felt durable and resilient which should help with extended travel use.
Maybe not your main device, but good as a backup
We really liked using the Fuel 3 in 1 Folding Power Station as a temporary solution, in places like the far end of a kitchen counter — or small desk. Where it could be set up when needed, but could also be easily tucked away when it wasn't.
Traveling with this charger is certainly possible, but it's not the most nimble option. We would be more inclined to find room to pack it for a week-long trip rather than only for a weekend.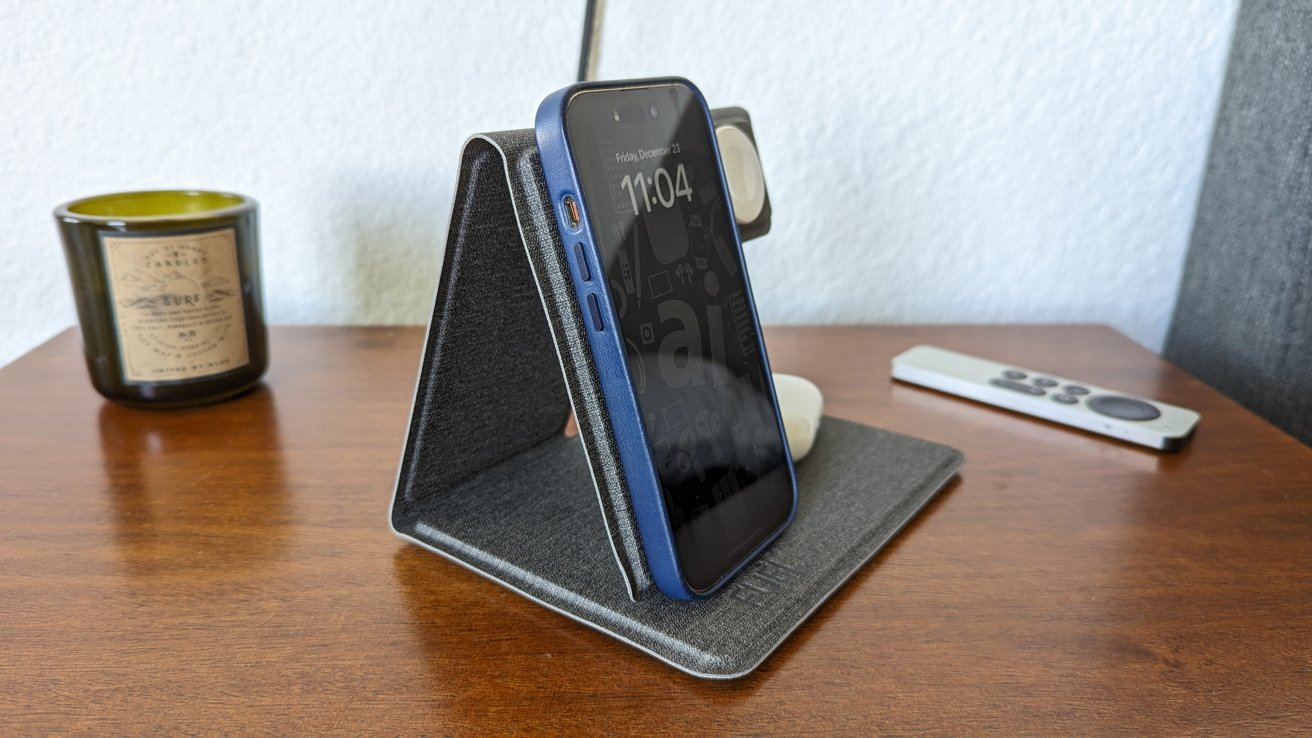 Case-Mate Fuel 3 in 1 Foldable Power Station – Pros
Speedy charging for multiple devices

Apple Watch charger will hold AirPods Pro 2 case

Can charge an iPhone vertical or horizontal
Case-Mate Fuel 3 in 1 Foldable Power Station – Cons
Too-large footprint to be a travel charger

Charging indicator lights stop illuminating quickly
Rating: 2.5 out of 5
At $150, the Fuel 3 in 1 Folding Power Station is a tough sell. It worked well as a multi-device charger but was still bulkier and more expensive than other options with magnetic alignment that helps position iPhones 12 and newer.
This charger is available for purchase at Case Mate for $150. Amazon has the Fuel 3 in 1 Folding Power Station for $119 for a limited time.